Ed McBain was one of the many pen names of the successful and prolific crime fiction author Evan Hunter (1926 - 2005). Born Salvatore Lambino in New York, McBain served aboard a destroyer in the US Navy during World War II and then earned a degree from Hunter College in English and Psychology. After a short stint teaching in a high school, McBain went to work for a literary agency in New York, working with authors such as Arthur C. Clarke and P.G. Wodehouse all the while working on his own writing on nights and weekends. He had his first breakthrough in 1954 with the novel The Blackboard Jungle, which was published under his newly legal name Evan Hunter and based on his time teaching in the Bronx.
Perhaps his most popular work, the 87th Precinct series (released mainly under the name Ed McBain) is one of the longest running crime series ever published, debuting in 1956 with Cop Hater and featuring over fifty novels. The series is set in a fictional locale called Isola and features a wide cast of detectives including the prevalent Detective Steve Carella.
McBain was also known as a screenwriter. Most famously he adapted a short story from Daphne Du Maurier into the screenplay for Alfred Hitchcock's The Birds (1963). In addition to writing for the silver screen, he wrote for many television series, including Columbo and the NBC series 87th Precinct (1961-1962), based on his popular novels.
McBain was awarded the Grand Master Award for lifetime achievement in 1986 by the Mystery Writers of America and was the first American to receive the Cartier Diamond Dagger award from the Crime Writers Association of Great Britain. He passed away in 2005 in his home in Connecticut after a battle with larynx cancer. (From his author page on Amazon)
LAST SUMMER
One of my favorites of Ed McBain's books was written under his real name Evan Hunter.LAST SUMMER is the story of three teenage friends - Sandy, David, and Peter who are spending a summer vacation on an island. They are a little out of control, stealing beer, experimenting with the life they are headed for, running naked through the woods. Their tightness as a group, a nearly perfect thing with Sandy taking the lead in almost everything, is tested when a new girl comes on the scene. It is their last summer of innocence and Rhoda, with her neediness and nerdiness, brings out the worst in them. Sandy uses Rhoda to test her mastery of the boys. An interesting novel that made an interesting movie.
Of course the books set in the 87th Precinct made McBain an eagerly awaited author for me. I think I read almost every book in the series. I was never as attached to Matthew Hope as I was to Steve Carella. IMDB lists all of the films McBain had a hand in. His
website
gives a complete list of his books and it's astounding.
EPITAPHS by Bill Pronzini
Ed Gorman is the author of the Dev Conrad series of books along with countless other mysteries, westerns, anthologies, short stores and horror novels. You can find him here.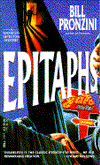 Epitaphs is one of my favorite Nameless novels for a number of reasons.
For one thing this is one of Pronzini's finest depictions of Nameless' painfully complex relationship with his old partner Eberhardt. The anger, the distrust makes you feel sorry for both of them.
Then there's the even more serious problem of his friend and lover Kerry not wanting to marry him.
The novel is also a fine depiction of how Nameless' North Beach is changing and is being refurbished not only commercially but also sociologically. Proninzi writes with real power about how the Italian heritage he obviously reveres is also suffering because of the changes.
Then there's the story and it's one of Pronzini's most skillfully conceived and maneuvered. Gianna Fornessi is the name of the beautiful granddaughter who is missing. A mutual friend of Namless' asks him to help the grandfather who fears for her.
When he finds where she lives Nameless also realizes that something is wrong. She came from a humble area of North Beach but lives in a style fitting a much more moneyed life.
From this hook Pronzini takes us through enough ruses, masques, dead ends and mysterious but enigmatic clues to fill three or four average novels. And he does so with prose so evocative of both place and passion that you race to the end.
One of Bill Pronzini's finest novels and I don't have to say much more than that, do I?
Sergio Angelini, BLOOD RELATIVES, Ed McBain
and
http://bloodymurder.wordpress.com/2014/03/16/hail-to-the-chief-1973-by-ed-mcbain/
https://bloodymurder.wordpress.com/2014/03/19/bread-1974-by-ed-mcbain/
Brian Busby,
CATTLE
, Winifred Eaton
Bill Crider,
THE BEST FROM FANTASY AND SCIENCE FICTION,
Third series, ed Anthony Boucher and J. Francis McComas
Martin Edwards,
DOVER AND THE UNKINDEST CUT OF AL
L, Joyce Porter
Curt Evans,
PARTNERS IN CRIME
, Agatha Christie
Rich Horton,
THE ADVENTURER,
Mika Waltari
Jerry House,
THE COUNTY OF GASTON,
Robert S Cope and Manly Wade Wellman
Nick Jones,
Twenty Books to Remember
George Kelley, DANGER: DINOSAURS, Richard Marsten (Ed McBain)
Margot Kinberg,
THE BURNING
, Jane Casey
Rob Kitchin,
CORRIDORS OF DEATH,
Ruth Dudley Edwards;
DISAPPEARED
, Anthony Quinn
B.V. Lawson, NOCTURNE, Ed McBain
Evan Lewis,
DANGER CIRCUS
, Raoul Whitfled
Steve Lewis/William F. Deeck,
SOMETHING TO HIDE
, Philip MacDonald
Todd Mason,
Assorted Publications
Neer, DOWNTOWN, Ed McBain
J.F. Norris,
CHILL AND THE KILL
, Joan Fleiming
James Reasoner, W
EIRD TALES, HERBERT WEST: RE:ANIMATOR
, H.P. Lovecraft
Richard Robinson,
DEAD SKIP
, Joe Gores
Gerard Saylor,
LET HIM GO
, Larry Watson
Ron Scheer,
FLINT'S GIFT,
Richard S. Wheeler
Michael Slind
Kevin Tipple,
THE PERFECT DETECTIVE
, CLark Casey
TomCat,
THE BISHOP'S GAME,
H.C. Bailey
Prashant Trikkanad, The Science Fiction of Evan Hunter (Ed McBain)